High Performance Custom Racing Carburetors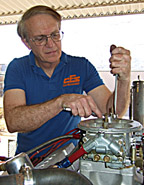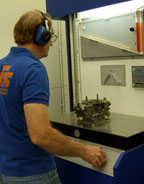 Competition Fuel Systems was founded in 1982 to provide custom-modified Holley carburetors to racers and engine builders. We never use advertising hype or gimmicks to sell our carbs. Instead, we rely on company founder Norm Schenck's 50 years of experience with racing engines to build custom carbs that make very competitive power without sacrificing driveability.
We work with you, the customer, to engineer carburetors with excellent airflow and, more important, with precise fuel metering under all part-throttle and full-throttle conditions experienced by your engine and vehicle.
Norm has spent 45 years specializing in modifying Holley carbs, so racers and engine builders can count on his extensive knowledge of the way racing engine components and carburetor design interact to make horsepower and create driveable torque.
Each CFS carburetor built in the last 40 years has been individually modified based on critical, confidential information provided by the customer. We'll ask you to provide engine and fuel-delivery system specs and tell us about the operating conditions your vehicle faces in its typical racing environment. That way we can customize your carburetor to help your engine make competitive power in the broadest possible RPM range.
Competition Fuel Systems' goal is to make each customer's racing effort more successful. Let us put our knowledge to work for you!